Mission Taliban is a a VR computer game that Merhi started to program in October of 2001 as a response and reflection to the WTC tragedy. To produce this work Merhi analyzed the source code of several 3D games, including Quake and Doom, but utilized Wolfenstein 3D, the first first-person shooter video game ever released. Wolfestein 3D helped popularize the genre on the PC, and established the basic run-and-gun archetype for many subsequent first-person shooter games. It became a critical reference to build the structural design of Mission Taliban.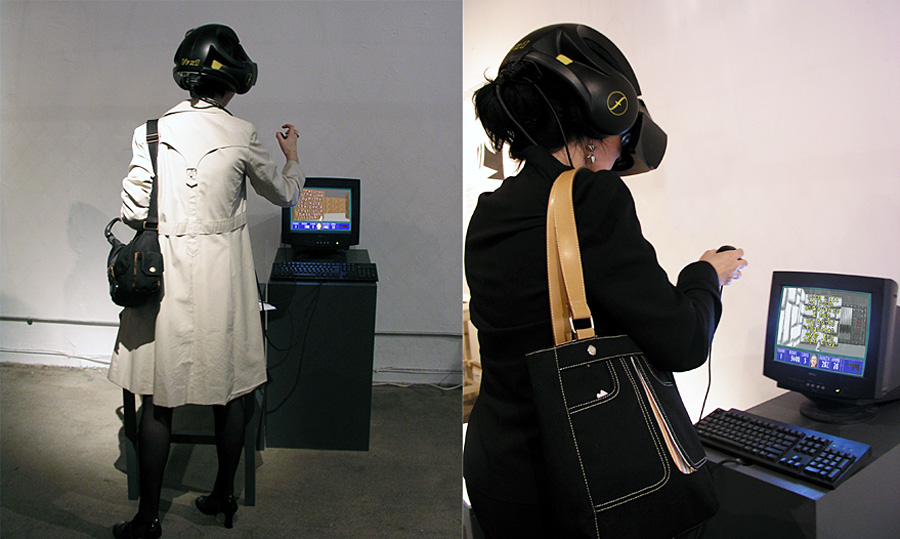 Museum and gallery 'users' have been able to play Mission Taliban by means of Virtual Reality equipment, interacting with both physical and virtual space. The main goal of Mission Taliban is to fight all the terrorists, find and destroy their massive-destruction weapons, accumulate "hope" coins, and finally, capture and exterminate Osama Bin Laden. During the game, players see poetry placed on the walls of the Taliban Base, as if it would be digital graffiti. The poems portray the collective feeling that people around the world experienced after the 9/11 attack. It is important to recall that when someone stops to read these poems, the user runs the risk of getting killed. However, Mission Taliban is a safe and cathartic way to deal with the time we are living. After all, it is just a game.
Collection: Private.